We are proud to support our community! Attend one of the following events and bid on our silent auction donations. VIP passes include 10% off bisque purchases and no studio fees for one year! Gift Shards are unique painted pieces of broken pottery that is the same as a gift certificate!  The value is as written and there is no expiration date.  It must be surrendered in order to receive store credit.  Both VIP passes and Gift Shards are redeemable at the Webster and Pittsford locations. 
If you would like us to consider a donation for your event please complete the donation request form here. Donations will require pickup. Thank you!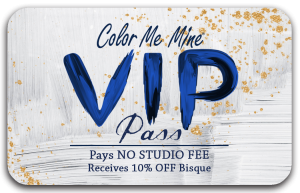 2018
08.03 | Gerhardt Neighborhood Outreach Center 9th Annual Golf Classic
08.13 | Rochester Broadway Theatre League 10th Golf Tournament at Midvale
08.16 | 16th Annual CompassionNet Family Picnic
08.20 | Lots to the Tots 3rd Annual Summer Sipping on the Patio Event
08.21 | Rush-Henrietta Boosters All Sports Community Kick Off Event & Food truck Rodeo
08.25 | Ontario Summer Send Off for Wayne Central School System
09.07 | BLAST! 2018 Catholic Charities of Wayne County
09.14 | Rochester Museum & Science Center 7th Annual Innovation Celebration
09.14 | Nazareth Golden Flyers Golf Tournament
09.14 | Celebrate! Churchville Chili Schools Event
09.15 | Off the Vine Auction
09.24 | Rochester Spinal Association Golf Tournament
09.28 | CURE Childhood Cancer Association 10th Annual Recipe for a CURE Sunday Brunch
09.30 | Parkinson's Foundation Moving Day Rochester Event
10.05 | Resolve - Unmask Domestic Violence
10.06 | 8th Annual Red Dress Gala for Alpha Phi Foundation
10.10 | Rochester's Finest Event for Cystic Fibrosis Foundation
10.11 | Adding Candles for Brain Cancer Research at Oak Hill
10.13 | Crosses & Crown Gala at Bishop Kearney
10.15 | M/Body Rochester Breast Cancer Event
10.16 | Annual Bunco for Charity for Women's Club of Rochester
10.19 | Cameron Community Ministries Silent Auction
10.19 | Florence Brasser Family Association Annual Apple Dumpling Festival
10.26 | The Strong Play Ball
10.27 | St. Lawrence School 17th Annual Walkathon
Keep an eye out for our donation for the Pittsford- Mendon DECA club at their homecoming dance!